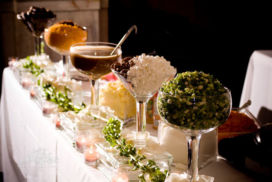 Your dress is gorgeous. The cake is beautiful. And the food? It needs to be amazing. Heart and Soul Catering can create the perfect complement to your perfect day with a specially prepared menu just for you and your guests. Here's a sample of meals we've been honored to serve at weddings over the years.
Southern
Pepper Cured Bacon Wrapped Scallops
Fried Green Tomatoes with a Spicy Aioli
Shrimp & Grit Shooters
Watermelon Gazpacho W/ Gulf Coast Crab Claws
Cajun-Stuffed Beef Tenderloin Carving Station
Delta Stone Ground Grits Station
Macaroni & Cheese Station
Turnip Greens served in a Martini Glass
Fried Green Tomato BLT
Texas Caviar
Late Night Biscuit Bar
Fried chicken tenders with honey mustard
House-smoke Pulled BBQ Shoulder
Mini Pecan Tartlettes with Bourbon Whipped CreamCornmeal dusted Oysters with Caper Remoulade
Mexican Station
Cream Cheese stuffed Bacon Wrapped Jalapenos
Southwestern Egg Rolls with Red Chili Salsa
Chicken & Beef Quesadillas with Salsa
Guacamole, Salsa & Tamale Pie with Tortilla Chips
Chile Rellenos
Beef and Chicken Taquitos
Chorizo Tamale Pie
Tilapia Tacos
Manned Grits Station
Original Creamy Grits Made to Order
Shredded Cheddar Cheese
Tabasco Gravy
Julienne Peppers
Apple-wood Bacon
Diced Pit-smoked Ham
Chopped Red, Green, and Yellow Bell Peppers
Lighter Fair
Classical Caesar Salad
Cilantro & Ginger Encrusted Salmon
Oriental Rice & Stir-Fry Squash & Zucchini
Basil Pesto Roasted Grilled Chicken
Tarragon Mashed Potatoes
Spinach & Smoked Tomato Wraps with Fresh Mozzerella
Grilled Salmon Brocchettes with Mango Glaze
Oven Roasted Chicken with Thyme & Garlic Pan Gravy
Grilled Asparagus with Lemon Hollandaise
Blackened Amberjack with Creole Buerre Blanc
Grilled Vegetable Medley with Rosemary & Garlic
Gran Mariner Marinated Fresh Seasonal Fruit
Flourless Chocolate Torte with a Raspberry Coulis
Strawberry Short Cakes with Vanilla Ice Cream
NY Cheesecake with Blueberry Sauce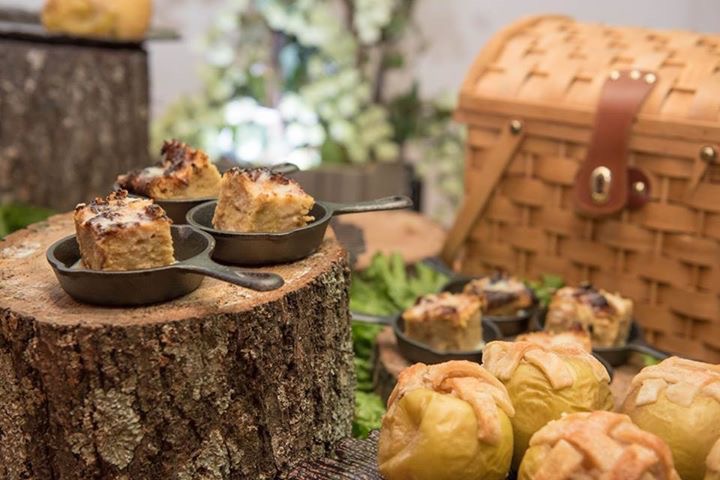 Mediterranean Station
Smoked Crudite Tray
Pita Chips with a Cucumber Tzatziki Sauce
Sesame Falafel with Tahini Dip
Greek Salad
Spankopita with Cucumber Tzatziki
Sauted Mussel with Garlic & Wine
Pork Souflima with Lemon & Herb Sauce
Lamb & Veal meatballs with Smoked Tomato Sauce 
Kosher
Matza Ball Soup
Smoked Salmon & White Fish Display
Potato Latkas with Apple Sauce
Sweet & Savory Kugels
House-pickled Cornbeef
Beef & Bean Chullent
Pepper corn Brisket with Mushroom Gravy
Carribean Station
Smoked Jerk Chicken Wing
Shrimp & Scallop Cerviche
Conch Fritters with Chipolte Aioli
Fried Plantain Chips with Mango Salsa
Fresh Tropical Fruit Salad
Pan seared Tilapia with Habenero Relish
Jerk Pork Loin with Pineapple Salsa
Pineapple Rum Cake with Coconut glaze
Carving Station
Leg of Lamb Served with Pan Au Jus
Smoked Mojo Rubbed Turkey Breast
Rosemary & Garlic Prime Rib
Grilled Porkloin with Cranberry & Apricot Relish
Don't miss the moment
Put heart and soul into your special celebrations. Start planning today.
Call us at 901.682.0041.